The Corvette Stingray Coupe and Convertible have been completely redesigned from the ground up to deliver a thrill on every drive. The new model delivers ultra-high levels of performance, craftsmanship, technology, and luxury for the clients of Faster Rent A Car – Top Sports Car Rental. it still looks and feels like a Corvette, but drives better than any vehicle in Corvette history. Faster Rent A Car Clients are going to be thrilled with our focus on details and performance across the board.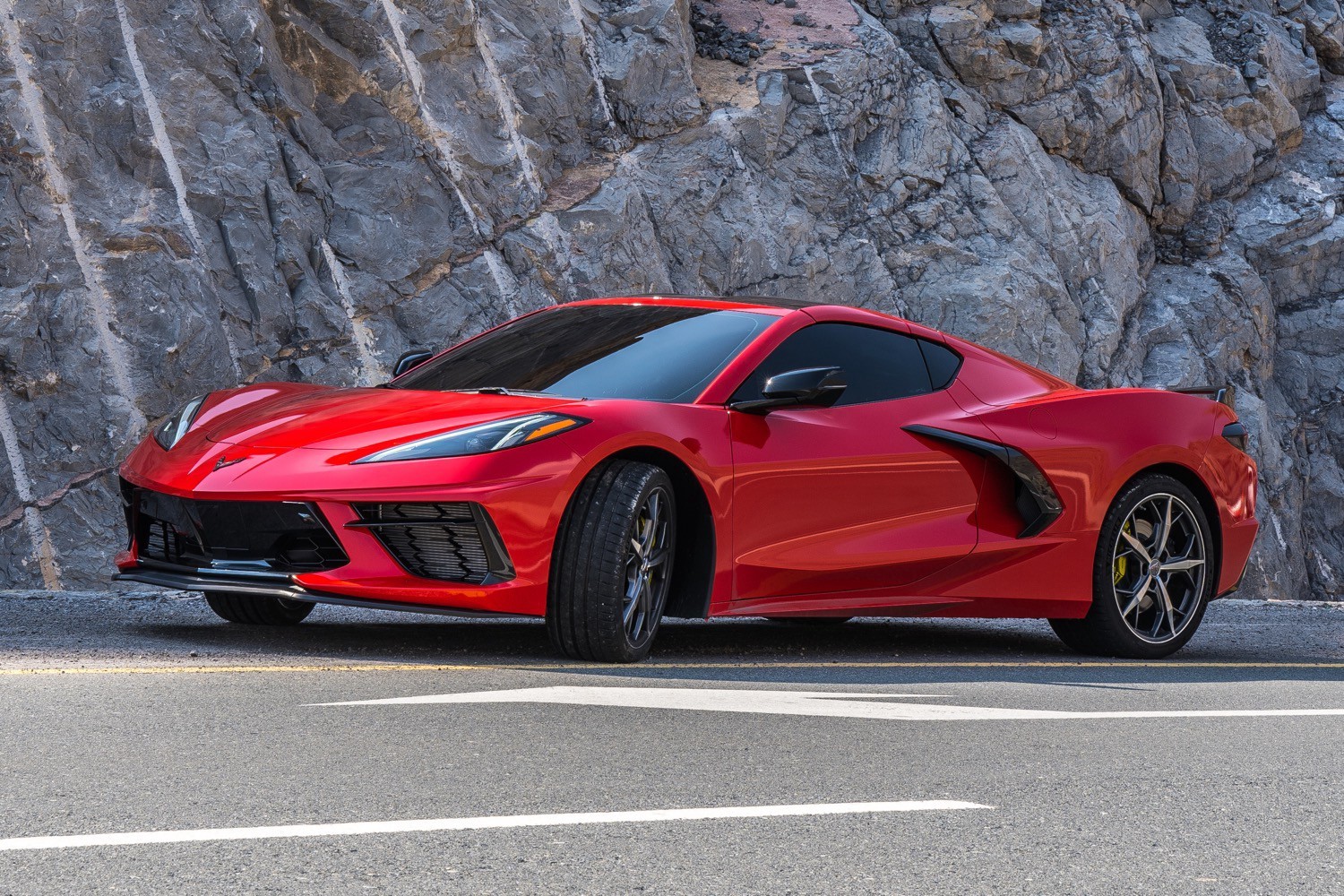 The all-new 2020 Chevrolet Corvette looks nothing like the old model. There are now twin exhaust tips on each side of the rear diffuser. Even storage has been thoughtfully engineered. An all-new front cargo area is large enough to carry an airline-size overhead bag, while the trunk can hold two golf bags or the removable roof panel.
The interior features a twin cockpit layout with a center console that divides the driver and passenger seats with a long row of buttons for the climate controls, heated seats, and other vehicle functions. For the driver area, you will be impressed with the comfort and support of the sport seat. every detail is designed to provide a natural and immersive driving experience that's tailored to you. Each button exactly where it needs to be for comfortable, intuitive use. And with three seat combinations to choose from, there's sure to be one that perfectly suits you.
The Corvette Stingray is paired with Chevrolet's first eight-speed dual-clutch transmission, which provides lightning-fast shifts and incredible power transfer. This transmission is uniquely designed with TREMEC to provide drivers with the best of both worlds: the spirited and direct connection associated with a manual and the premium driving comfort of an automatic.
Luxury Car Rental The mid-engine configuration provides incredible visibility, responsiveness, and a driving feel. The push-button controls for the 8-speed dual-clutch transmission are easy to use and a hand rest to the right is a good pivot point for putting the car in motion or adjusting the various drive modes. The 490-horsepower V8 and 470 lb.-ft. of torque yields a 96 km/h time of 2.8 seconds on its way to a top speed of 312 km/h. It's equipped with a standard dry-sump system for improved performance when g-forces are high and features Continuously Variable Valve Timing that further improves performance.
Our brief stint behind the wheel left us wanting more, especially some time on the track. We're sure that the 2020 Corvette Stingray will be as satisfying to drive as it is to look at.
Audi Rental | Bentley Rental | BMW Rental | Cadillac Rental | Chevrolet Rental | Dodge Rental | Ferrari Rental | GMC Rental | Ford Rental Dubai | Hyundai Rental Dubai | Jaguar Rental Dubai | Jeep Rental Dubai | KIA Rental Dubai | Lamborghini Rental Dubai | Lexus Rental Dubai | Maserati Rental Dubai| Mazda Rental Dubai | MCLAREN Rental Dubai | Mercedes Rental Dubai | Mitsubishi Rental Dubai | Nissan Rental Dubai | …